Select Waterfront Development Property & Private Islands Along the SC Coast
__________________________________________
Lucy Point For Sale On Ladys Island Beaufort, SC
43 acre waterfront tract that includes a 6 acre island on the point of Lucy Creek. Deep Water and marsh front property.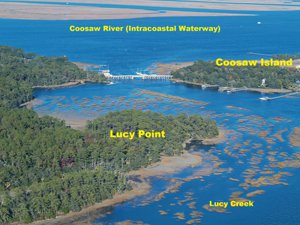 Property Uses;
Private Estate
Estate size subdivision of 5 acre plus parcels
5 acre plus subdivision exempt from County Development ordinances.
5 plus deep water parcels and 13 plus marsh front home sites. Plus interior lots
1/2 acres parcel zoning may allow for 80 plus home sites.
Great boat landing next to property.
Located on Ladys Island. One of Beaufort's most popular areas.
Very convenient to downtown, shopping and restaurants.
One of the last large deep water properties on Ladys Island.